Research Specializations and Interests


Improving forage quality and conservation, conservation, and rumen fermentation with additives (enzymes, chemicals and microorganisms).
Evaluating the impact of forage attributes on the health and performance of ruminants and the safety of animal products.
Using legumes to improve the sustainability, productivity and efficiency of animal production.
Devising location-appropriate supplementation strategies for livestock production.
Using plant neutraceuticals to improve the health and performance of livestock.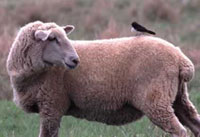 PO Box 110910
Gainesville, FL 32611
Phone: 352-392-7527
Fax: 352-392-7652
2250 Shealy Dr.
Gainesville, FL 32611