Livestock Education and Certification
for Agriculture Law Enforcement
LECALE
The objective of the Livestock Education and Certification for Agriculture Law Enforcement (LECALE) program is to provide law enforcement and state attorney personnel with rigorous and relevant training curriculum regarding generally accepted livestock production practices, skills to discern acceptable animal well-being, and the ability to apply acquired knowledge and skills in the field and during litigation proceedings. Specific learning objectives include basic animal husbandry, identification, behavior and handling, nutrition, pastures, disease and biosecurity, euthanasia, body condition scoring, and live animal evaluations.
Attendees will receive both classroom and hands-on educational opportunities. The LECALE program offers law enforcement educational opportunities with an emphasis on animal production practices specific to the Gulf Coast region. The program offers multi-species agriculture-related education. Subject matter experts; University of Florida professors, IFAS County Extension agents, and Law Enforcement officers will deliver the LECALE program. At the conclusion of the program attendees will undergo an examination for certification through the Florida Farm Bureau Agriculture Certification Program. The program delivers the learning objectives over four days with a final day for assessment and certification. The LECALE program will offer law enforcement personnel an excellent opportunity to increase their knowledge and skills regarding livestock animal production. The associated certification demonstrates attainment of knowledge and subject matter credibility for the LECALE attendee.
Attendees are encouraged to bring a laptop computer to receive electronic copies of class material and assessment materials.
Accommodations
Numerous hotels and motels in the Gainesville area are available to accommodate your lodging needs. Mention UF/IFAS when calling to make reservations. Some of our local venues have special pricing for our guests.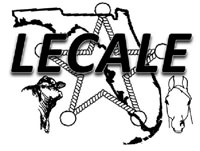 Dates and Times
December 5-9, 2022
Location
Straughn Professional Development Center
2142 Shealy Dr.
Gainesville, Florida 32611
Contact Us
Dr. Carissa Wickens
Assistant Professor
State Extension Horse Specialist
cwickens@ufl.edu
352-392-1917
Keitha Bennett
Director of AEST
Florida Farm Bureau Federation
keitha.bennett@ffbf.org
352-275-8675