Horse Teaching Unit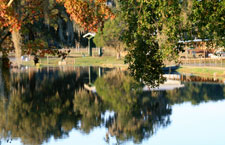 The UF/IFAS Department of Animal Sciences operates a horse teaching unit. This 65-acre farm was developed to teach the Equine student many aspects of the industry with hands-on practicality. The wide range of experience includes breeding, training, marketing, farm management, and health care. This site also serves as a location for Extension functions such as judging contests and horsemanship clinics.
Teaching-Extension Facility
Covered 250 x 125 ft covered arena
Bleacher seating for 300 – 500
Sound system
Classroom seating for 60 people with internet access, computer, projector, surround sound a/v capabilities
20 indoor stalls
6 wash racks
Covered instructional area used for the instruction of farrier sciences and other live animal demonstration
6 outdoor turn-outs directly adjacent to the covered stalls
300 x 130 ft grass turf outdoor arena
6 outdoor round pens
2 walkers
Restrooms with private shower and lockers
Paved parking for 300 cars.
North Production Facility
6.5 acres of medical rehabilitation paddocks,
21 acres of general pastures housing the farms riding and breeding herds,
A 6,000 sq. ft. general-purpose barn with 12 stalls, wash racks, and scales,
A 3,200 sq. ft. reproduction facility with palpation stocks, collection phantom, a fully equipped semen processing lab, and 2 stalls,
A 6,000 sq. ft. agricultural support and storage building,
And a 250 sq. ft. hay storage facility.
The unit maintains a primarily Quarter Horse-based teaching herd numbering around 45 head. Offspring from this herd are trained by the students, and sold in the Sale in the Swamp held each spring. Occasional fillies are kept as replacements. The farm also stands three Quarter Horse stallions that are bred to UF and outside mares. All income generated through the sale of horses or stallion services is utilized by the farm for maintenance and improvements.
Take a 360 Virtual Tour
Contact Information
Address:
1934 SW 63rd Ave
Gainesville, FL 32608

Business Hours:
7:00am - 4:00pm
Monday - Friday
*Visitors welcome by appointment only
Farm Manager:
Angela Chandler
Telephone: 352-376-0562
Faculty Supervisor:
Joel McQuagge
Telephone: 352-392-6363
Courses Offered at the HTU
ANS3006L: Introduction to Animal Sciences Lab
ANS3079L: Relationship of Form to Function in Horses
ANS3237C: Equine Health Management
ANS3239L: Ranch Horse Management
ANS3239L: Techniques in Equine Science
ANS4212L: Techniques in Farrier Science
ANS4218L: Horse Psychology and Training
ANS4241L: Intermediate Horse Training
ANS4318C: Equine Reproductive Management
ANS4231: Horse Management Practicums


Horse Care and Grooming
Weanling Behavioral Modification